All phone messages left at the church will be picked up on Wednesdays during the 9am to 11am business hours. If you need immediate pastoral care, please call one of the pastors. To contact Joanne send an email to
office@rochesteroslc.org
. Emails are checked daily Monday-Friday. Thank you.

"Welcome one another, therefore, just as Christ has welcomed you, to the glory of God." Romans 15:7
We welcome new visitors and old friends, Christians from every tradition, and people new to faith. To those who have no church home, want to follow Christ, have doubts, do not believe, you are welcome here. Regardless of age, color, culture, sexual orientation, gender identity, socioeconomic status, marital status, abilities or challenges, join us, you are welcome here. You are welcome to worship, to celebrate and sorrow, to rejoice and recover. This is a place where lives are made new.
Due to the coronavirus outbreak, we have suspended all gatherings in the church….BUT!!!!
Join us for worship at 9am on Sunday mornings.
Click the FB Link below or find us on YouTube.
Search:
Our Savior's Lutheran Church, Rochester, MN.
Join us starting May 2, 2021 for outdoor worship weather permitting.
More information regarding outdoor worship is below.
Click the link below to open the Easter Season Bulletin.
For your convenience and easy use, click HERE for a direct link to the Facebook Videos
Don't have Facebook, click HERE to watch on YouTube.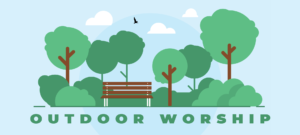 OUTDOOR WORSHIP SERVICES
Starting Sunday, May 2nd, 2021
Please sign up if you are able so we can worship together.
Dearest Siblings in Christ.
May is quickly approaching and that means….Outdoor IN-PERSON Worship.
As my kids would ask, when they were younger, "How many more sleeps?" 11 more sleeps! I can't wait.
As we approach this I want to encourage you all to sign up to help. We will need about 10 volunteers to help make this happen each Sunday and I know you are all eager to help. Please look to our sign up genius to sign up. Link above in red.
Volunteer! Sign up on the sign up genius link.

If we will need to cancel the worship service for any reason it will be posted Saturday morning on: KTTC, our Facebook pages and in an email to the congregation.

Pack your lawn chair in your vehicle! Maybe a blanket and some snacks too.

Use the restroom if needed before you come, as the bathrooms will not be available at the church.

Enter the parking lot the wrong way, look for guides to help.

Pick up communion elements (or bring your own) and drop off your offering on your way into the church.

Set up your chairs in a parking spot. Try to leave an empty spot between two family units. If this isn't possible have one at the top of the spot and one at the bottom of the spot to try to maintain physical distance.
If you still have questions: Call/Text/ Email me and I will try to assist you.
Pastor Nikki 507-398-7710
Online worship will continue. If we cancel outdoor in-person worship we will be directing you to our youtube or Facebook page worship services.
Our 9am call in service and our 10 am coffee hour via zoom will be discontinued.
An Update from the COVID Taskforce
The COVID Taskforce would like to provide a visual representation of the progression toward re-engaging in-person ministry opportunities.
We're currently in Phase I:
– The building is closed except for Wednesdays mornings, with only one or two people being in the building at a time, during which time people can drop off their offering.
– The Taskforce reviews all requests to utilize the church building or grounds on a case by case basis.
In Phase II:
– Additional opportunities to re-engage in-person ministry opportunities will be considered, including a possible outdoor worship service.
In order to move to Phase II:
– Olmsted County needs to have fewer than 5 new cases per day per 100,000 people for 14 consecutive days. We picked this number (5 new cases / day / 100,000 people) because that is the government's goal.
The graph below shows how we have tracked these daily case totals.
– The blue line represents the rolling weekly average of newly reported cases per day, per 100,000 people living in Olmsted County.
– The orange line represents the goal of 5 new cases / day / 100,000 people.
Olmsted County came close to meeting this goal on one day (5.1 on September 13), but that is not anywhere close to meeting the metric of 14 consecutive days of 5 new cases / day / 100,000 people for moving to Phase II.
We will continue to keep you updated. If you would like additional information, please check Olmsted County's COVID Dashboard on the county's website.
– The OSLC COVID Taskforce
HAVE YOU THOUGHT ABOUT MEMBERSHIP AT OSLC? If you are interested in becoming a member, please talk with Pastor Ben or Pastor Nikki. New member forms are available in the Narthex or on the church office desk or click the link to open a printable form. Membership Information Sheet
For OSLC News go to the E-News Sign up button below
and sign up for weekly OSLC News Emails.